Where old meets new...(Nice, France)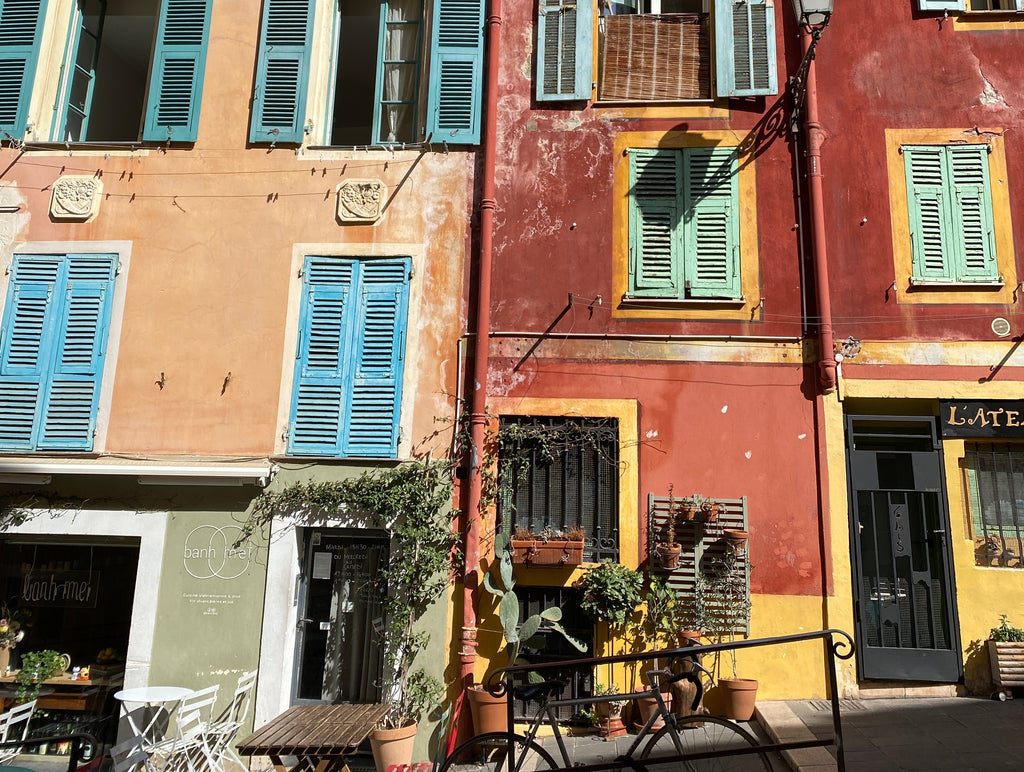 Posted on
April 12, 2022
achilleas petris
This blog post is about my favorite city in the Cote D'azur…Nice!
And what a city Nice is, everything is at one's fingertips…let's see what a day could look like while there…
You have woken up in Nice… it's time to go out for a coffee walk and inhale the fresh Mediterranean breeze and feel it as it blows through your air as you stroll the prestigious Promenade des Anglais on the edge of the Mediterranean Sea…a Promenade like no other…tourists, locals, joggers, and strollers, passing you by while some music is played by a street performer as you stop by one of these little iconic blue chairs to just take it all in while having your morning cappuccino…A Promenade that has been there for quite a while, with its construction beginning in 1820...Welcome to a morning in Nice. 
And if the sun is a little bit too hot and it just happens that you wear your swim shorts (We hope it's not a coincidence) just take the steps down from the Promenade to the beach with the azure waters and jump for a refreshing swim…All of that sounds too good to be true? Trust me when I say I don't exaggerate at all. I might make some of these statements sound a bit poetic, but who am I to blame? The Mediterranean shapes your thoughts to be like that…and the french riviera with its glory makes it even easier.
Now that you're dried up from your morning swim it's time for you to get lost in the quaint streets of Vieux Nice (Nice's Old Town)... Just a short walk from the coast, you'll find yourself at the charming Cours Saleya markets, a market for everything Mediterranean..from flowers, spices, ingredients for the best charcuterie you ever made, to works of art... everything is there and it's waiting for you to experience. 
It's right at the beginning of the old town and it's a lovely place to take in the combination of colors from the market and all the pink and yellow houses that surround it…it's no wonder how so many artists are inspired to create there!
When it comes to art, this city has plenty to offer, for example, Musée National Marc Chagall which is probably the best one in the area, and art lovers won't want to miss it.
If you are not feeling like visiting museums you can always continue your walk through the old town and explore the shops along Avenue Jean Médecin and find yourself at Place Massena, the heart of Nice, right on the edge of Old Town near the beautiful Fontaine du Soleil is there which is a meeting point for the locals and has plenty of choices around for food and drinks.
As the sun is slowly coming down it's time for you to find yourself back in the old town, to start climbing the (somewhat) easy stairs to Castle Hill for a Panoramic view you cannot miss. If you are already too tired for them you can also catch the lift that is available by the Promenade des Anglais. You are now on the hill…watch the whole city underneath going by with its lively rhythms and let your eyes roam as far as they can…A hill that separates Nice into two parts: the eastern part with the port, and the western part with the Old Town of Nice.
Talking about Castle Hill...I would suggest you keep an eye on your watch so you do not get scared (if you decide to visit it at noon.) Every day around that time, you can hear a cannon shot in Nice, and let me tell you that even though I was there for 5 days, it still got me every single day. As the story goes, Sir Thomas Coventry-More, firing his cannon, notified his wife to come back from the city center for lunch. Of course, today it is no longer a cannon that we hear, but a firework that is still being fired manually each day...nevertheless It's safe to say that Niçois now never miss a lunch even if they have grown so used to the midday boom that they hardly notice it, they know it is lunchtime when all the tourists jump.
Did I mention lunch?… When in Nice don't forget to bring your appetite... This city is meant for foodies. As I said earlier the story begins in Nice's Saleya market, where local producers from the foothills of the Alps bring in a wide variety of fresh produce...locals, tourists, renowned chefs all find themselves roaming around the little market stalls in the search for the best ingredients.
Once in Nice you should try street snacks like pissaladière (caramelised onion tart), socca (chickpea pancakes), or tourte de blettes (chard, raisin and pine nut pie), not to mention all the Provençal dishes from an authentic Provençal beef stew to true salade niçoise to pasta with pistou, and from fresh lemon tart to vegan cheesecake that you can find in one of the city's bustling bistros.
All of that while being in a location so close to Monaco and Saint Tropez where one can experience the French Riviera's glamour and splendor…not to mention the picturesque little villages of Villefranche-sur-Mer and Saint-Jean-Cap-Ferrat just a few minutes drive away from Nice...
Nice has it all. Modernity, old-world charm, year-round sunshine, vibrant street life, and a breathtaking seaside location, a city to fall in love with…Au revoir!
PS1: Here's a Spotify playlist for you to listen to while booking your tickets to the french riviera.
PS2: Don't hesitate to contact me by email achilleas@gratsi.com for any Mediterranean advice/questions!