Slow Sunday Recipe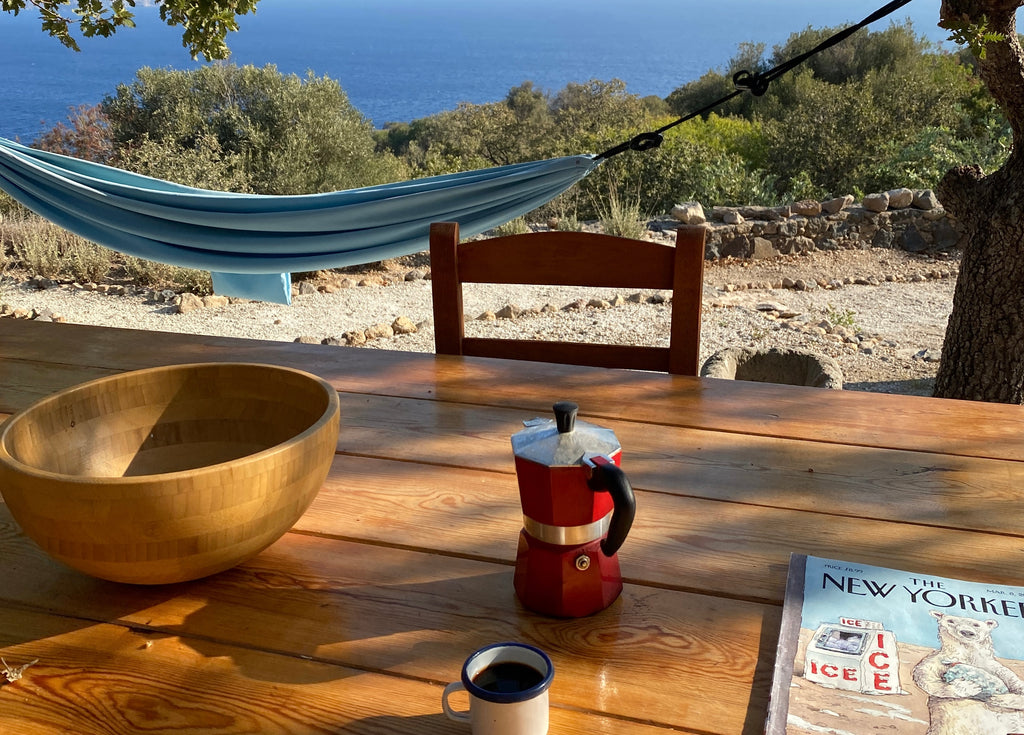 Posted on
April 02, 2022
achilleas petris
I want to start this Sunday Recipe by mentioning the ingredients that you are going to need...
A few hours of Sunshine.
A good dosage of Nature. (The sea give's it extra taste)
A meal (You can't go wrong with our Sunday Sugo recipe by Grandma Pauline)
Some wine. (We got you covered)
A friend, family, or loved one…
Last but not least you are going to need to turn the notifications off your phone, this day should be just for you and not for your Gmail, Facebook, and Instagram.
Let's begin…
9 AM: 
Ok let's be honest, there's a big chance that the day will be delayed until 10-11 AM, it's Sunday after all and you have had a long week.
Now that you have woken up, you need to start your day by making a nice cup of coffee, preferably an espresso (there is a rumor that an Italian is losing 3 years of his lifespan every time an American is calling espresso "expresso"), as you take the first sip of your coffee you need to step out on your balcony, porch, or simply out of your door and get some rays of sun on your skin…
Sundays are made to be taken slow, so put some music on and listen to that playlist that makes you daydream... Here is our Spotify if you are in need of some inspiration.
11 AM:
The first coffee of the day is already consumed, (Let's be honest you are probably already on the third cup since you might have had a Wine time until late the night before, we can't blame you).
Now it's time for you to get into your car and drive to a place that takes your mind off, get out of your car, and simply breathe, put your phone down for a minute…Sit down on a bench, see the people walk by, listen to the sound of the trees, the laughs of the children that are playing nearby, feel the breeze, and if you happen to be close to the sea just listen to the sound of the waves, just this sound alone is enough to make one feel complete and I can't think of a more therapeutic sound in the world.
1-2 PM:
Lunch is probably the most important part of a Sunday in the Mediterranean culture, it's where family and friends are gathered together at the table and as we mentioned earlier you can't go wrong with our Spaghetti and Meatballs recipe and since the weather is finally getting warmer, why not take your table outside with some chairs and dine "al fresco" …
The phrase al fresco is borrowed from Italian for "in the cool air", although it is not used in that language to refer to dining outside. Instead, Italians use the phrases fuori ("outside", "outdoor") or all'aperto ("in the open air").
Ok...so what is it about outdoor dining that feels so tempting and soothing? Is it so special because it feels like the adult version of backyard camping where the laughter and the stories could be shared with friends without worrying about a single thing in the world? 
Maybe it's the effortlessness and unpretentiousness of Al fresco dining that makes it so unique and it's why people around the Mediterranean always prefer it...It's an experience and it's all about being aware of the environent around you and of course moving your chair according to the Sun's movement, out of the shade, so you can get as much of it as possible.
3-4 PM:
Your belly is now full of Pasta and wine and all you can think of is how much you would like to magically transport to your bed. In true Mediterranean fashion, you should listen to your heart and get off for an hour or two nap or better called "Siesta", the Spanish didn't invent this word for no reason…
5-6 PM:
You are now awake from your Siesta and as it usually happens after it you probably don't even remember where you are and you might think that your name is Pepito and you moved to Valencia, don't worry you are going to be back to normal in a while...
As the day comes to an end you come to realize how important Sundays are and how taking them slow is the way to go…
And no, by having this slower pace it won't make you lose your precious time; it will actually help you gain more of it. It's just that simple.
Of course, you might think, "Sundays are the only day I have for myself. I should make the most of it and get as much done as possible." The problem with doing 'more' on Sundays is the reason why our weekend seems to end too soon. It is a cliché but it's true — time flies when the next day of the week is a Monday.
What if instead of trying to measure the quality of a Sunday by how many tasks and chores we do or how many people we hang out with —we simply measure our Sundays by how recharged, relaxed, and contented we feel at the end of the day?
"The great benefit of slowing down is reclaiming the time and tranquility to make meaningful connections–with people, with culture, with work, with nature, with our own bodies and minds" 
-Carl Honoré