Recipes
Summer Bruschetta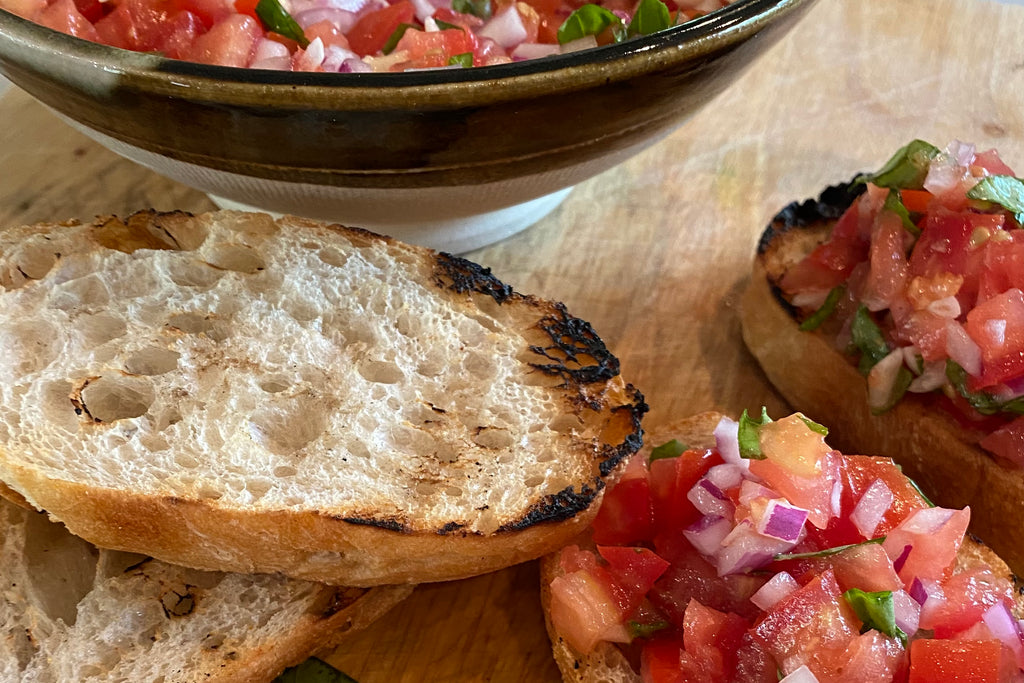 Posted on
June 08, 2021
Aaron Moore
This recipe is the perfect summer snack or starter, using fresh and ripe tomatoes. If you grow them in your garden, even better! Fast and easy, refreshing with a little tanginess, this is a go-to in our house during tomato season. Pro tip: Italians pronounce it as: Brus-ketta, not Bru-shetta. Enjoy!
Topping:
16 oz. of fresh ripened tomatoes (3 medium-sized or about 15 cherry tomatoes)

1/4 medium red onion (finely chopped)

1 large garlic clove, finely chopped

finely chopped basil leaves (to your taste preference)

4 tablespoons extra-virgin olive oil

2 tablespoons of red wine vinegar

pinch of salt to taste
Bread:
Take a fresh loaf a Ciabatta and slice off 6 - 8 pieces, depending on the size of the loaf. 
1 clove of garlic, peeled
Extra-virgin olive oil
Pairs perfectly with Gratsi White. The acidity in the tomatoes and the tanginess from the vinegar sing in harmony with the crisp acids and rich fruit in the wine. 
Instructions:
Pour yourself a glass of Gratsi White!
Make the topping first, allowing the flavors to come together for about 45 minutes to an hour. 
Dice the tomatoes first, placing into a large bowl. Add the garlic, onion, basil, olive oil and vinegar, and a bit of salt to taste. Gently fold all ingredients together with a spoon, taste again for desired saltiness, and set aside.
Grill your bread slices on your outdoor grill, a grill plate, or under a broiler until the edges are slightly charred. While hot, rub your garlic clove over the slices imparting its fresh oils into the bread. Finish by drizzling olive oil lightly over the bread slices, plate the bread, and serve family-style allowing each person to assemble their own.  
 Salute!