Recipes
Calzone con Salumi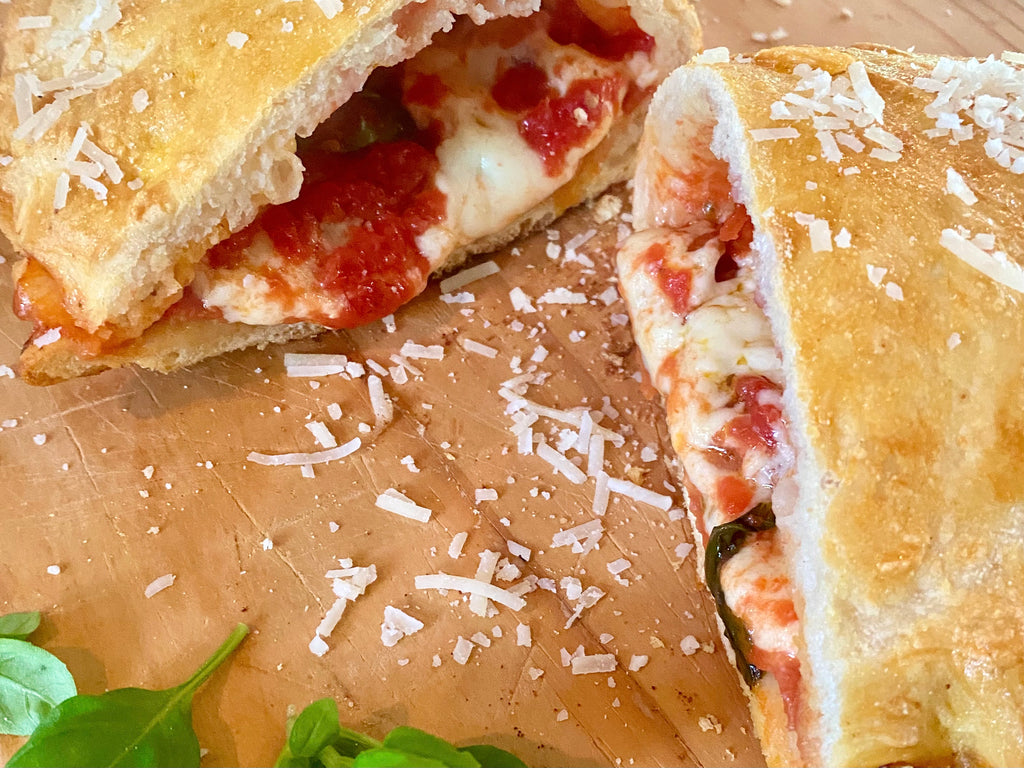 Posted on
June 08, 2021
Aaron Moore
Calzones are basically folded pizzas and were originally created to eat while out and about. These were most commonly bought through street vendors. The literal meaning is "trouser leg" as in calzoni pants and possibly got its name from being the perfect snack to eat while walking around. This recipe is simple and classic, but you can add whatever ingredients you like. "Salumi" is the name for cured meats and is different than "salami", which is only one type of salumi. For this recipe we used locally-cured pepperoni, but any cured meat will do.
Makes 1 Large Calzone
Ingredients:
200 - 250 gram ball of pizza dough. You can buy fresh dough at your local markets or make your own. Here's a really good recipe from Gozney that I like. It's delicious and these guys really know their pizza.
3/4 cup of tomato sauce
8 - 12 ounces of sliced pepperoni (or another salumi of your choosing)

1/2 cup grated Parmesan cheese 

4 -6 ounces of mozzarella cheese, sliced or grated 

fresh basil, chopped

1 egg (optional)
Pairs perfectly with Gratsi Red. The richness from the cheese and pepperoni pair beautifully with the nice acids and bolder fruits in the wine. 
Instructions:
Pour yourself a glass of Gratsi Red
Preheat your oven to 500 degrees. Either line a sheet pan with parchment paper or use your pizza stone. Make sure your stone is in the oven during the entire pre-heating process. It needs to be really hot when you slide your calzone on after the oven is up to temperature.
Either hand-stretch and shape your dough or roll out with a rolling pin. Hand-shaping and stretching with result in an airy and lighter crust where rolling will give a firmer, tighter result. Both are equally delicious and it comes down to your personal preference. You'll want the dough to be about 12 -14 inches in diameter before applying the ingredients.
 Spoon your sauce onto half of the round, distributing evenly, leaving about a 1/2 inch at the border. Add the pepperoni on top of the sauce, sprinkle the fresh herbs, and follow with your cheeses.
Whisk the egg with a folk until when beaten and brush onto the border. Fold the dough over and press the edges together, creating a seal. Brush the top side wit the remaining egg. This step is optional and your result will be great without it should you choose to skip it.
Place into the oven and cook for about 15 minutes or until the top is golden brown
Serve and eat while hot. Cut in half and let some of the heat escape before eating to avoid the dreaded roof of the mouth burn. 
Salute!
 Salute!