Mediterranean hidden gems near Split-Croatia.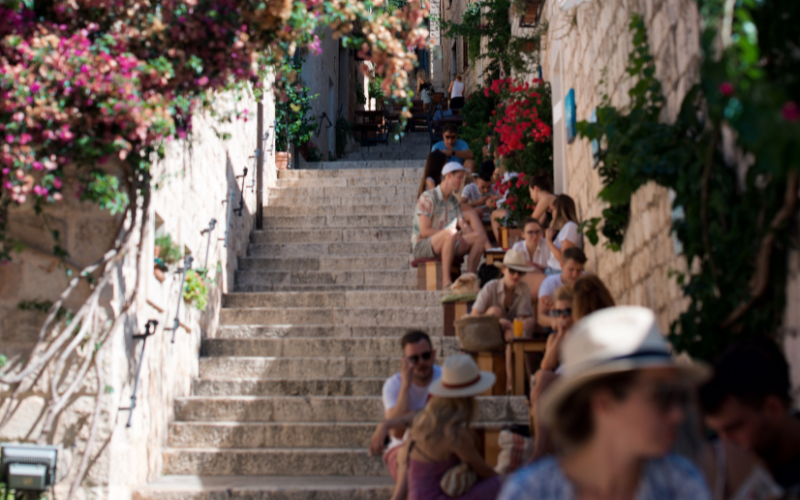 Posted on
August 02, 2022
achilleas petris
There are over 1400 islands and islets to explore during the Croatian summer. Between Dubrovnik and Split lie some of the most beautiful beaches in Europe. The pristine waters, fresh seafood, and rich Mediterranean history belonging to the Dalmatian region can be reminiscent of neighboring Italy's "La Dolce Vita" but has its own aura.
On the islands especially, there is a slower pace of life. In Croatia they say "Pomalo" – take it easy. Any of these can be visited as a day trip but it's recommended to spend a few days getting to know each one. This is a short introduction to all the main and some of the smaller islands you can visit near Split.
Brač- Less than an hour by ferry from Split, Brač is home to Zlatni Rat beach. The name translates to "golden horn" due to the shape created by the tide and sands. Possibly Croatia's most famous beach, the shoreline is scattered with café bars providing service out to the lounge areas along the sea.  This beach is on Bol, which is the opposite side of the island from the port and will need to be accessed via bus or taxi once you arrive.
While there is plenty to do all over the island, you can spend the perfect vacation day in Croatia here. The water is particularly clear and deep close to shore making it ideal for swimming or snorkeling. Close to the water is also smaller food truck style joints offering faster food options. In Bol there is a Dominican monastery you can partially visit; the other side has been turned into a hotel. Most people experience Brač as a daytrip, so if you're not staying to explore the rest of the island be sure to stop at Stina Winery near Zlatni Rat beach before catching the bus back to the ferry port. 
 Hvar- The next stop after Brač is probably the most well-known of any Croatian island. Hvar has a reputation for some of the best summer nightlife Europe has to offer.  Outside of the main town, the island is very laid back with glamp sites and more secluded beaches, but even staying in the old city it is easy to break away from crowds and parties making Hvar an ideal destination for everyone. One of the most popular activities are boat tours that take you from Hvar Port with different options to stop at the Blue Cave, Green Cave, Stiniva Cove, Pakleni Islands and Palmizana. Additionally, you can rent small boats by the hour that don't require a license to explore different beaches of Hvar and smaller islands nearby at your own pace.
As for food, try the island's famous dish -- a fish stew called gregada at Macondo in the old center of Hvar. From the old town, take a short climb by foot to the Spanish Fortress that overlooks the city and get an overhead view of Hvar. Since this area is more popular there is also a nice variety of food including Asian, vegan, and gelato or fresh frozen smoothies sold along the port to cool off. Beach Club Hvar is an amazing luxury experience, as is anywhere on the nearby island of Palmižana. If you want to experience the nightlife, Carpe Diem Beach club is on it's own island, open during the day until 10pm and at night from midnight all the way through 5am. 
 Vis- Vis is home to Stiniva Beach, named most beautiful beach in Europe in 2013. The main area to stay in on Vis is Komiža, a Mediterranean fishing village with great restaurants and easy access to Stiniva and the small neighboring islands. It has gained in popularity but is a bit less crowded than some of the other islands due to it being the furthest inhabited island from the Croatian mainland -- however it is worth making the journey. If you have a car or call a taxi, you can access Stiniva Cove from above but is a bit of a hike down and back up.
The best way to experience this beach is via boat or water taxi (there are different options available along the port or online). Once you arrive you either swim or can take a small boat to the beach with any belongings. Be sure to bring food if you will be there for a while, as the beach has a laid-back bar with drinks only. It's small but a good place to swim, snorkel and relax all day, with one half usually covered in shade. Boat trips offer stops at the famous blue cave on the tiny islet of Biševo, known for the Blue Cave and its own version of the plavac variety of wine. Near Komiža is plenty of other amazing beaches to explore, enjoy a gemišt (Croatian style spritzer of sparkling water and white wine) on one of the many bars or restaurants all along the port. Like most of Croatia, lots of stray cats roam the alleys and locals can be seen fishing everywhere. 
 Šolta- is an island 18 kilometers from Split full of small fishing villages and family-owned wineries. The Greeks called this "Olyntha" and was a summer vacation spot for Roman citizens of Split, or Salona as it was called back then. One of the most unique things to do here is visit Tvrdic Honey- a bee farm owned by the Tvrdic family for generations. This one is less visited than the main Croatian islands, but the village of Maslinica has the best accommodations and faces west so that you can get a view of the sunset from here and is the livelier of the island villages. The buses connect to the ferry arrivals making it ideal for exploring without a car. Šolta is perfect for anyone looking for a laid-back place to break away from crowds, whether staying a few days or on a day trip.
Explore more of our travel blogs here.
Written by Lottie Rose