Articles
Direct-to-Consumer (DTC) Wine Trends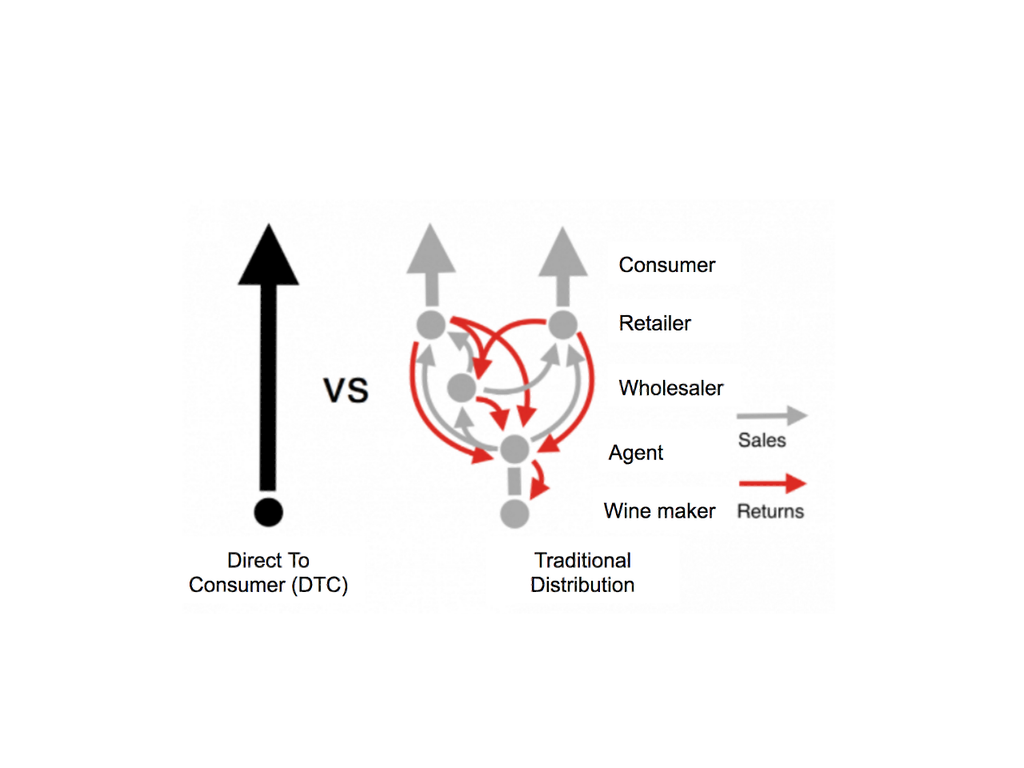 Posted on
August 23, 2021
Aaron Moore
DTC, or Direct-to-Consumer, wine sales are simply those that go directly from the winery to the consumer. Traditionally, wine sales in the United States have gone through the three-tiered system which involves three phases before reaching the consumer. In this system, wine bottles go from the winery to the wholesaler or distributor and then to retailers before being sold to consumers. 
In contrast, Direct-to-Consumer sales skip two of those steps, allowing for sales directly from the winery to the consumer. Obviously, this is a substantially more efficient model than the traditional system, and consumers enjoy increased quality for lower prices. 
The challenge, of course, is how DTC companies connect with consumers. Yet, there are a number of ways that companies are able to effectively do this, including tasting rooms, events, social media, and e-commerce. While many of those channels have struggled amidst the pandemic, online sales have soared, hitting record highs. 
Here's an overview of some of the changes the industry has seen and what to expect from DTC sales going forward. 
2020 Saw the Largest Single-Year Increase in DTC Shipments 
Every year, Sovos ShipCompliant and Wine Vines Analytic produce a Direct-to-Consumer Shipping Report sharing key data, information, and projections for the DTC wine industry. According to the 2020 Direct-to-Consumer Wine Shipping Report, U.S wineries shipped 8.39 million cases of wine to consumers in 2020, with sales totaling over $3.7 billion. Notably, DTC sales grew by a staggering 27% in 2020 over the sales in 2019. 
After steady growth over the last decade, this amount of year-over-year growth is unprecedented for several key reasons. COVID-19 closures and restrictions were key in bringing about this surge, as tasting rooms, restaurants, and bars were closed. At the same time, consumers increasingly relied on online sales for purchases of all kinds, and wine was no exception. 
While the changes of the last year and a half brought about the need for consumers to turn to DTC wine sales, a clear trend has emerged now that more people have tried this type of wine buying: consumers like buying wine directly from wineries. 
When it comes to buying wine, the experience is important. Consumers have signaled that they like the DTC experience and the variety, quality, and convenience that it provides. 
Value was a Key Driver of DTC Sales 
Interestingly, while 2020 saw sales volume rise by 27%, value only rose by 14.9%. This discrepancy is because consumers showed a strong preference for moderately-priced wines. 
The 2020 DTC Wine Report shows a clear trend here, as the average price per bottle decreased by 9.5% to $36.83 per bottle. This is the largest price reduction in the past 11 years (which is how long the DTC Wine Report has been produced). Notably, cheaper wines prevailed across all wine types, as sales of bottles priced $30 or less increased by 41.6%. 
This focus on value is a key takeaway from the 2020 report. Regardless of the wine type or the region, consumers were increasingly focused on value and finding affordable wines. Larry Cormier, vice president and general manager of Sovos ShipCompliant notes that "[b]ucking past trends, value emerged as a key driver of increased sales as wine drinkers flocked to lower-priced wines amid economic uncertainty." 
Anticipate Steady Growth 
While lockdowns and restrictions lead to huge growth early in 2020, the industry continued to show steady growth throughout the fourth quarter of 2020. This seems to indicate that even as many aspects of life returned to normal, consumers continued to show a preference for buying DTC wines.
And, frankly, it's not surprising that now that more people have experienced the convenience and value that comes with the DTC experience, that the industry will continue to grow.  As it does, wineries and DTC companies are going to continue working to gain market share. 
Industry experts note the importance of experience when it comes to wine sales and growth. With that in mind, it's important for wineries and DTC companies to respond to the trends of the last year and try to build upon the ever-changing expectations of consumers. This means a focus on convenience, value, and overall consumer experience. 
After 2020, "the genie is now out of the bottle," according to beverage consultant Danny Brager. Brager believes that "the e-commerce sustained effect is likely to continue into 2021 as more wineries invest in digital marketing and direct-to-consumer shipping to both compensate for restrictions on tourism and in-person visits and to maximize their consumer touchpoints." 
Try an Affordable, Low-Sugar, Sustainable DTC Wine 
At Gratsi, we've worked hard to anticipate the needs of our customers and to provide them with both a great experience and product. We know the importance of value, which is one of the reasons that we're founded on a direct-to-consumer model and have focused so much on our packaging. 
We only work with quality winemakers who use the best old-world, winemaking techniques. By shipping the wine directly from our winemakers to our customers, we're able to ensure that our high-quality wines are sold at affordable prices. 
Plus, with our bag-in-box package, we're able to save on packaging costs and shipping costs. Additionally, we know the importance of sustainability, so this packaging has a carbon footprint that's 80% lower than glass bottles. 
Finally, we know that today's consumers care about their health. With this in mind, we only produce low-sugar wines that help keep you healthy and feeling great. This means less sugar in your diet and fewer headaches after enjoying our product. 
We're proud to offer both Red, White & Rosé that is delicious, zero in sugar, sustainably produced, and affordable. Try a box of each or sign up for a subscription today.