Articles
Boxed Wines in the US vs Europe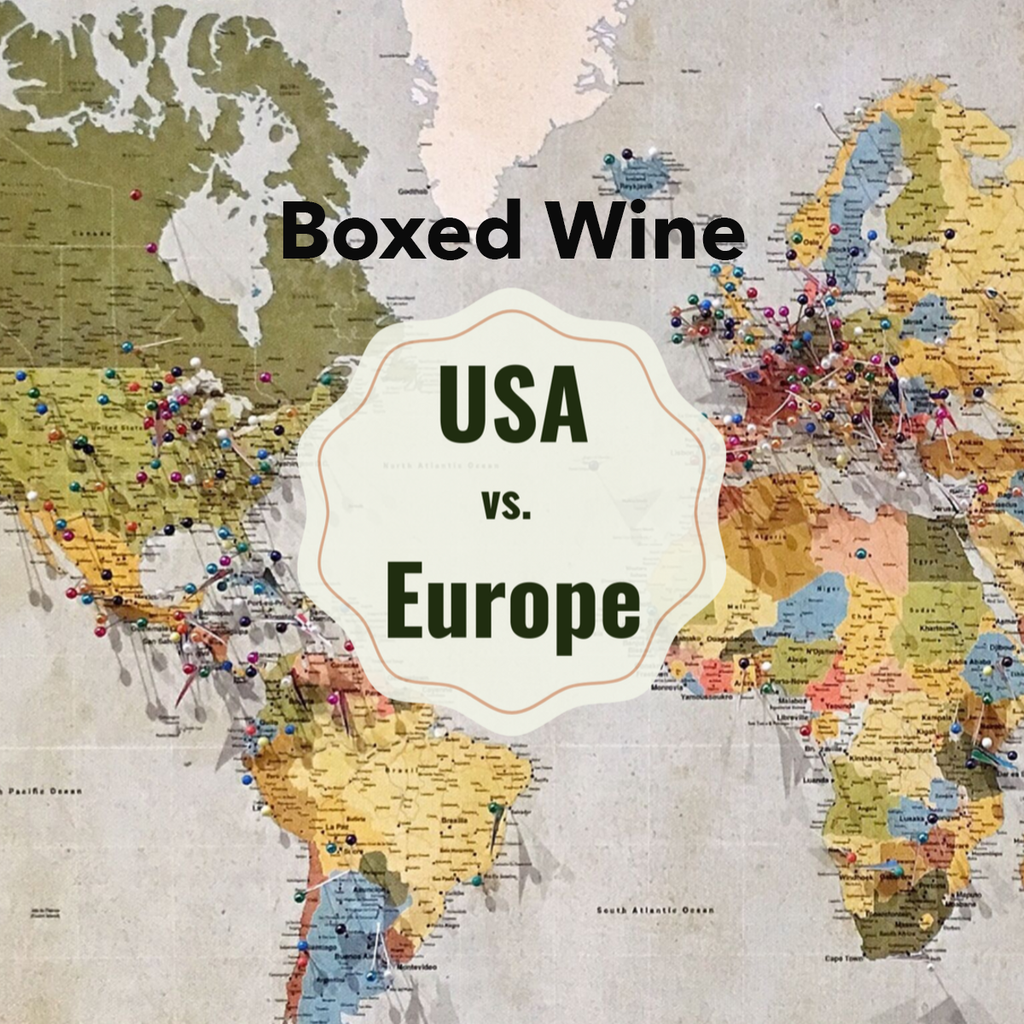 Posted on
July 28, 2021
Aaron Moore
Boxed wines or bag-in-box wines have historically been met with resistance by American wine companies and American consumers. While they've long been thought of as downmarket wines, more consumers are beginning to recognize the benefits that come from this type of packaging and appreciate that quality wines can be enjoyed from other than glass bottles. 
While boxed wines have yet to become mainstream for US wine companies, their wide popularity in European markets perhaps signals a shift that is coming to American markets. 
The History of Bag-in-Box Wines
Bag-in-box wines originated in Australia in 1965 when Australian winemaker Thomas Angove patented the first "wine cask" or bag-in-box. This type of storage has some inherent benefits and quickly became popular in Australian markets. By the 1990s, two-thirds of the wine consumed in Australia came out of a box. 
Over the last 30 years, this trend has spread quickly to European markets, especially in Scandinavia. By 2017, nearly 50% of the wine consumed in Finland and Sweden was sold in a box. 
The concept of quality wines being sold in a box also gained traction in western Europe, as high-end wine bars like BiBoVino and Weino BIB opened in Paris and London. These wine bars only offer bag-in-box wines, helping European consumers appreciate the quality of wines that can come in boxes. It's also helped to overcome the stigma that boxed wines are low quality, as Europeans have enjoyed quality wines from boxes. 
Benefits of Bag-in-Box Wines
Europeans, like Australians, are embracing boxed wines and their offered benefits. The bag-in-box packaging offers a more sustainable way to package and distribute wine, with a carbon footprint that is substantially lower than that of glass bottles. Additionally, wine stored in boxes can stay fresh for as long as 4 to 6 weeks, as opposed to 1 to 2 days for bottles. Finally, this packaging is more affordable, making it possible for consumers to get quality wines at a lower price. 
With these benefits and only a few drawbacks, American winemakers continue to be resistant to this change, and American consumers are not shifting to bag-in-box wines at the same rates as other regions. 
Why the American Wine Industry is Slow to Adopt Boxed Wines
Industry experts speculate that there are a few reasons why boxed wines have been less widely adopted in the United States. From the perspective of the consumer, some believe that it has to do with the long European history of "house wines" or well-made bulk wines and a lack of an equivalent experience for American wine drinkers. 
Europeans, especially those that live close to winemaking regions, are used to drinking quality house wines. In contrast, few Americans have this opportunity and tend to believe that quality wines only come at higher dollar values and in traditional bottles. 
For many consumers, it's simply an issue of perception, one which can directly impact winemakers. According to Alfonso Cevola, a wine marketing consultant, "there's the myth of the wine connoisseur and the 750 ml bottle with a cork closure, and that's embellished and played on by the current generation of executives. That's their comfort zone and that's where they operate from." Because of these perceptions, winemakers themselves are hesitant to change their packaging away from the 750 ml bottle.
With this in mind, it's not surprising that there's resistance to boxed wines from all three phases of the United States' three-tier system, which is made up of winemakers, wholesalers and distributors, and retailers. For the most part, all three prefer to maintain the status quo. 
From the perspective of winemakers, shifting packaging practices involves substantial expense and risk. To make this shift from glass to box, the many small winemakers in the United States face major logistical challenges. Unlike many European wine makers, few US wine companies have access to off-site packers that will box wines for export. This means they have to make these shifts on their own, and this can be challenging. 
Similarly, wholesalers are generally opposed to this shift because their systems are set up for 750 ml bottles, both when it comes to storage and transport. Cevola notes that "changing packaging and formats could be a logistical nightmare for both big and small distributors." 
Finally, retailers are concerned about the impacts that this change will have on consumers and the concern that consumers' perceptions about the quality of boxed wines will impact sales.  
Perhaps the bottom line is that participants in the three-tier system see changing the packaging of wine as fixing a problem that doesn't exist--in their eyes, the process works so there's no need to change it. 
Trending Towards Boxed Wines in the United States
Despite reluctance from the U.S. wine industry, there has been a rise in the production of quality boxed wines. Large wine labels have yet to make the shift, but small companies have developed quality wines offering consumers an alternative to glass. 
And, increasingly consumers are appreciating the benefits that come from boxed wines. The last year saw dramatic growth for the bag-in-box wine industry. In March of 2020, sales of bag-in-box wines in the United States increased 53% compared to the previous year. While this dramatic shift was likely brought about due to consumer changes due to COVID-19, there is reason to believe that the industry will continue to see steady growth in the United States. 
As more companies produce quality boxed wines, more consumers will appreciate that they can get all of the benefits that come from bag-in-box wines without having to sacrifice quality. As that shift occurs, it's likely that the United States will follow trends in Australia and Europe, where winemakers and consumers have fully embraced boxed wines. 
Offering Consumers Alternatives
At Gratsi, we understand that many wine lovers are not happy with the three tier wine system making up the status quo. They want a way to drink quality wine that is affordable, easy to drink, and sustainably produced. 
Our direct to consumer wines are high quality and low in sugar, and our packaging is light, easy to transport, and has a carbon footprint that's 80% lower than glass bottles. It's a better way to enjoy quality wines. Try a box or sign up for our subscription service today.