Recipes
Spaghetti Carbonara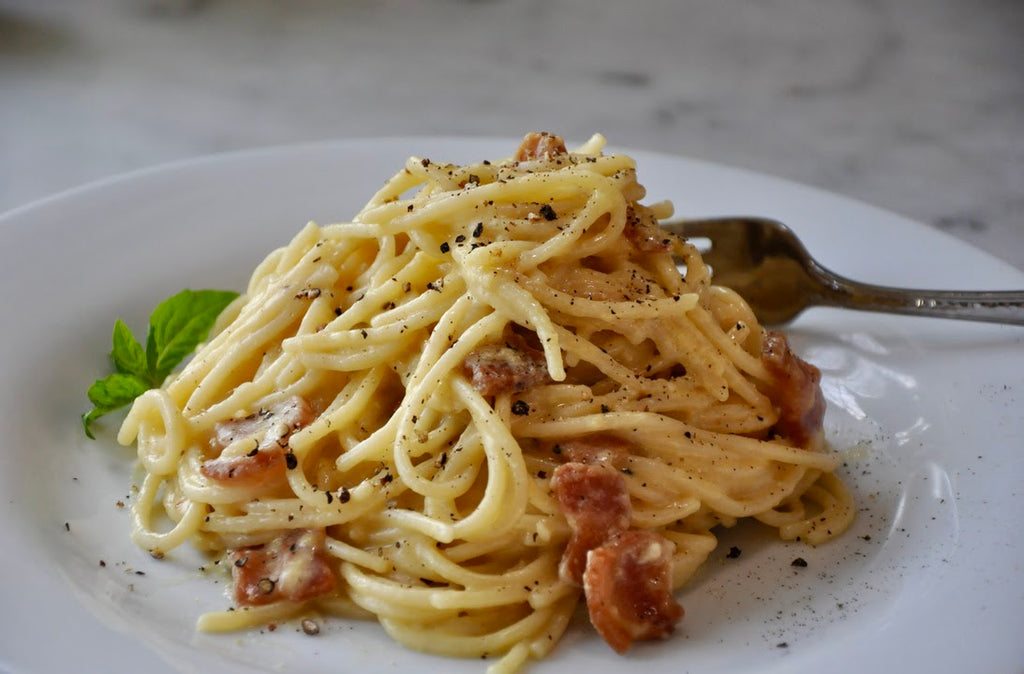 Posted on
March 24, 2021
Aaron Moore
Carbonara has a long history and although the exact origins are debated, (there are no written recipes of this dish until the 1940's) this Roman classic is incredibly savory and full of body and flavor. It's easy to make, using only a few simple ingredients. With most things, simplicity can be the easiest way to achieve explosive results.
Serves: 4
Made With Four simple ingredients (not including the pasta):
egg yolks, black pepper, pecorino, and guanciale (cured pork cheek). *if guanciale isn't available, use pancetta or bacon
4 cups cooked spaghetti (about 6 ounces dry)

5 large egg yolks

1.25 cup pecorino freshly grated (100 grams)

1 teaspoon black pepper (freshly ground if possible)

2.5 tablespoons olive oil

¾ cup guanciale (150 grams)
Instructions:
Pour yourself a glass of Gratsi! Next, take a large pot, boil your water and salt it well once it hits a boil. Stop cooking when the pasta is al dente. Remove the pasta while keeping the hot pasta water in the pot. Set pasta aside, spreading evenly on a sheet pan or baking sheet to cool without sticking together.
In a medium bowl beat the egg yolks until smooth, then add the grated pecorino and pepper, and beat to combine. Set aside. 
Slice the guanciale into short thin strips. 
In a large pan add the olive oil and guanciale, cook on medium heat until desired doneness. 
Remove the guanciale to a clean plate, keeping the oil (& fat) in the pan.
On medium/high heat, add the al dente pasta to the pan, and about a 1/2 ladle of hot pasta water and stir to combine, remove the pan from the heat and add the egg mixture and quickly combine and toss continually until well combined and creamy. Add the guanciale and bring together. Serve immediately.
Salute!
Credits: Chef Tanner Harris for always bringing his magic and spirit to making the foods we love