Recipes
Uncle Charlie's Sicilian Pizza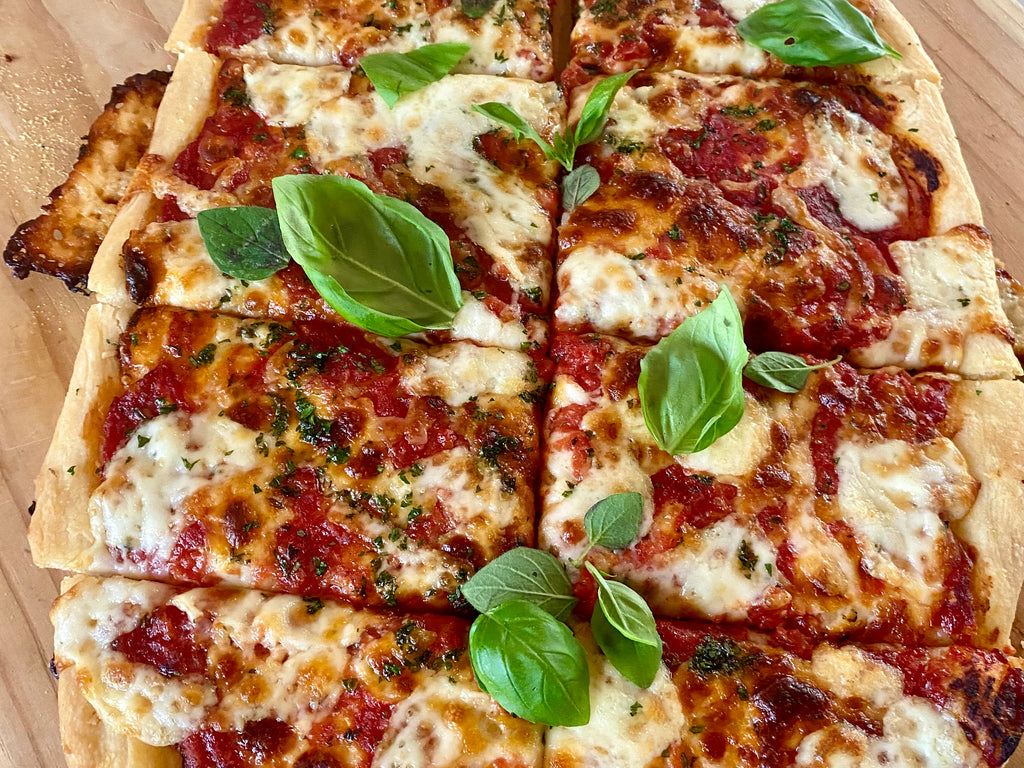 Posted on
June 09, 2021
Aaron Moore
Sicilian pizza is a bit different and has an almost bread-like quality to the crust. It's thicker and chewier, similar to it's cousin the Detroit-style pizza. Not short on cheeses, this style of pie gushes with sauce and cheesy goodness in every bite. It's a bit thicker and heartier than than a typical thinner crust pizza, with a comforting quality that brings you back for more. This recipe is simple with only a few quality ingredients, showcasing the fresh sauce... and of course the cheeses. 
 Ingredients:
250 gram ball of pizza dough. You can buy fresh dough at your local markets or make your own. Here's a really good

 

recipe

 

from Gozney that I like.
1 cup of tomato sauce

1 cup grated Parmesan cheese 

1 pound of mozzarella cheese, thinly sliced

1 cup of mozzarella, finely grated

1 tablespoon of fresh oregano, minced fine (dried oregano is great also)

1/4 cup fresh basil, coarsely chopped
Pairs perfectly with Gratsi White. The richness from the cheese and sauce pair well with the nice acids and tropical fruits in the wine. Gratsi White is floral and fruity, but dry with nicely balanced acids that cut through the richness in the cheeses and bread, cleaning the palate for another bite. So good!
Instructions:
Pour yourself a glass of Gratsi White
Roll out the pizza dough on a lightly floured surface into a rustic rectangle that should be around 12 x 14 inches. It's not important to be exact since this is meant to be a rustic pie. As long as it fits on your sheet pan, you're fine. Coat the base of a baking sheet pan with olive oil t and place the dough on top, stretching the dough to fill the space of your pan. Coat the top with olive oil and set aside for 1 hour to let the dough rise to achieve a soft and puffy texture.
Preheat your oven to 500 degrees 30 minutes before your dough is finished resting.
When ready to assemble and cook, cover the surface of your dough with the sliced mozzarella and sprinkle with parmesan cheese. Spoon or ladle your sauce over the cheeses evenly and then top again with the grated mozzarella cheese. Now sprinkle your oregano over the top.
Place into the oven and cook for about 15 minutes or until the dough is golden brown and check the underside of the pie with a spatula to ensure it's cooked also.
Remove and let rest for about 3 minutes, add your fresh basil on top, cut and serve. 
Salute!