Recipes
Penne Arrabbiata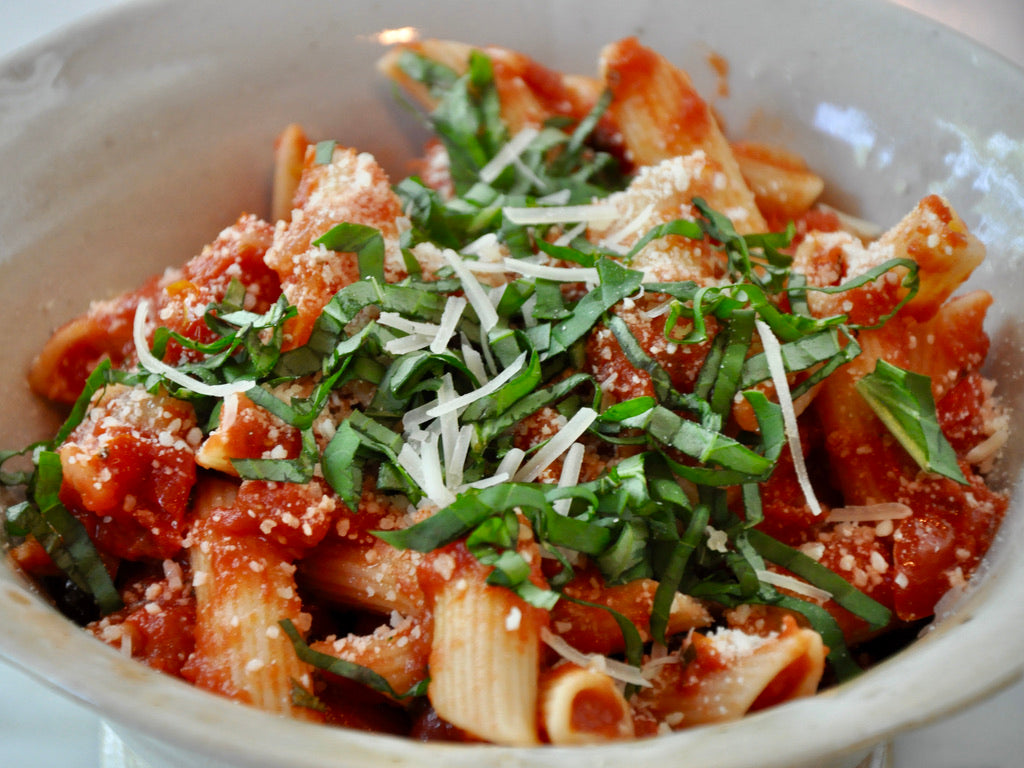 Posted on
April 16, 2021
Aaron Moore
Arrabbiata was born in the early 20th century in Rome to provide something different for locals than the Amatriciana sauce that dominated the cafes at that time. Keeping the tomatoes and Pecorino, replacing the guanciale with spicy chiles, and using penne instead of bucatini pasta. Arrabbiata literally translates to "angry" and is believed to take this name from the heat in the sauce. It's a simple and delicious dish that works well as a main course or side dish to a heartier main, like Bistecca alla Florentina.
Serves: 4
Ingredients:
4 cups of cooked penne pasta

1 large tin of crushed tomatoes

1/2 onion

2 large cloves garlic

Cherry tomatoes (quartered) - about 1/3 lb.

Fresh basil, oregano, thyme - chopped

0.25 cups

 

Gratsi White

 

wine

Pecorino Romano freshly grated - for topping at end

2 Tbsp extra virgin olive oil

Crushed red pepper flake

Salt
Instructions:
Boil water, add your pasta, cooking until the pasta is al dente. Spread flat on a baking sheet when complete to cool evenly.
In a sauce pot, heat your oil over medium heat. When the oil warms, add your onions and cook for a few minutes until they sweat and begin to become translucent.
Add your garlic and let cook about a minute before adding a good dash of crushed red pepper. Cook for another 2 minutes and add the chopped fresh tomatoes, a good pinch of salt, and fresh herbs.
After the tomatoes have released their juices and the ingredients have softened, add your tin of crushed tomatoes and a healthy dose of fresh basil. Stir together and cook for another 10 minutes.
When the sauce is ready, combine the pasta and sauce, mixing together with a handful of Pecorino Romano. Once the dish has come together, divide into bowls evenly, top with Pecorino and fresh basil. Serve immediately.
Salute!
Credits: Chef Tanner Harris for always bringing his magic and spirit to making the foods we love