Recipes
Bucatini alla'Amatriciana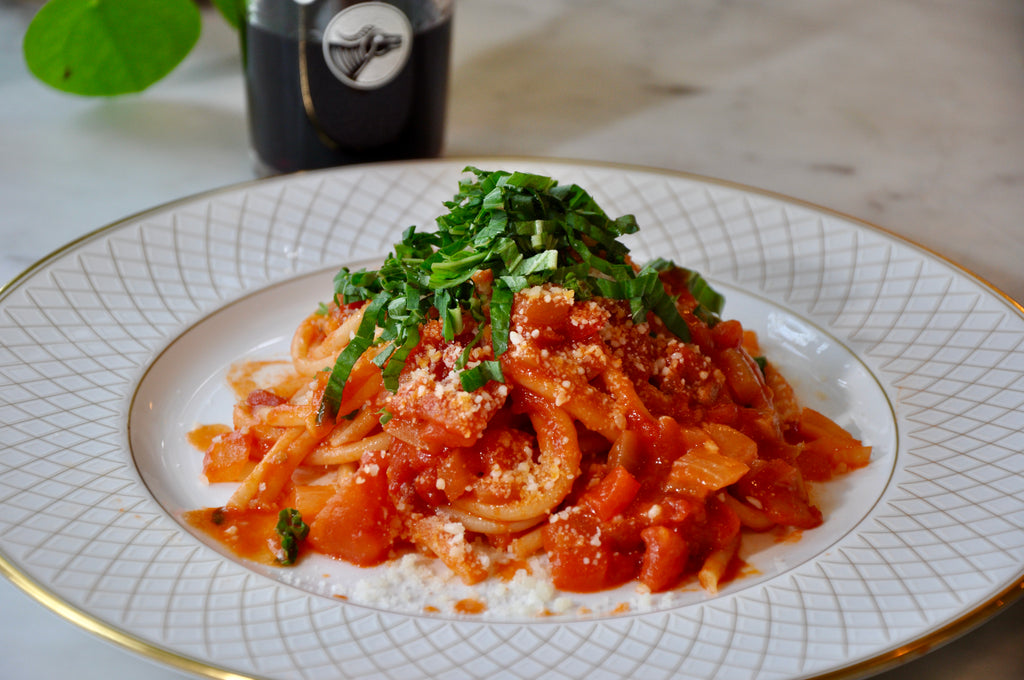 Posted on
April 06, 2021
Aaron Moore
Amatriciana pasta originated in the small town of Amatrice (according to food historians) and is simply a variation of la Gricia, adding tomatoes. La Gricia (also in our recipes) is made simply from olive oil, guanciale, black pepper and Pecorino Romano cheese. It was known for being a Shepard's dish around the town of Grisciano. The nearby people of Amatricia adopted the dish, making their variation, which is said to originated in the late 17th century. This continues to be one of the most popular dishes in Italian culture today.
Ingredients:
0.75 cups of cooked guanciale (or pancetta) cubed

2 cups San Marzano tomatoes

1/2 onion

0.25 cups Gratsi White wine

Pecorino Romano freshly grated - for topping at end

3 cups cooked bucatini pasta

1 tablespoons olive oil

freshly ground pepper to taste

fresh basil, thinly-sliced
Pairs perfectly with Gratsi Red. The fruity dryness cuts through the fat and richness of the guanciale, but plays perfectly with the acidity in the tomatoes, blasting bigger darks fruits into the savory flavors of the dish.
Instructions:
Pour yourself a glass of Gratsi Red!
Slice the guanciale into small cubes. 
When the guanciale is golden brown, add the Gratsi White and onions,  simmering until the base reduces by 75% (about 10 minutes).
Then add the can of tomatoes, roughly chopping them if whole.
Cook on low heat from about 15 minutes until the sauce has thickened and come together. Taste and add salt as needed.
Cook your pasta in well salted water until it's al dente, then remove from the water, keeping some hot pasta water to add to the pan.

Add the pasta to your pan and a splash of hot pasta water, folding all the ingredients together to create a thick sauce with everything coated
Serve immediately with grated Pecorino Romano and freshly cut basil leaves.
Salute!
Credits: Chef Tanner Harris for always bringing his magic and spirit to making the foods we love