3 Greek Islands You've Never Heard Of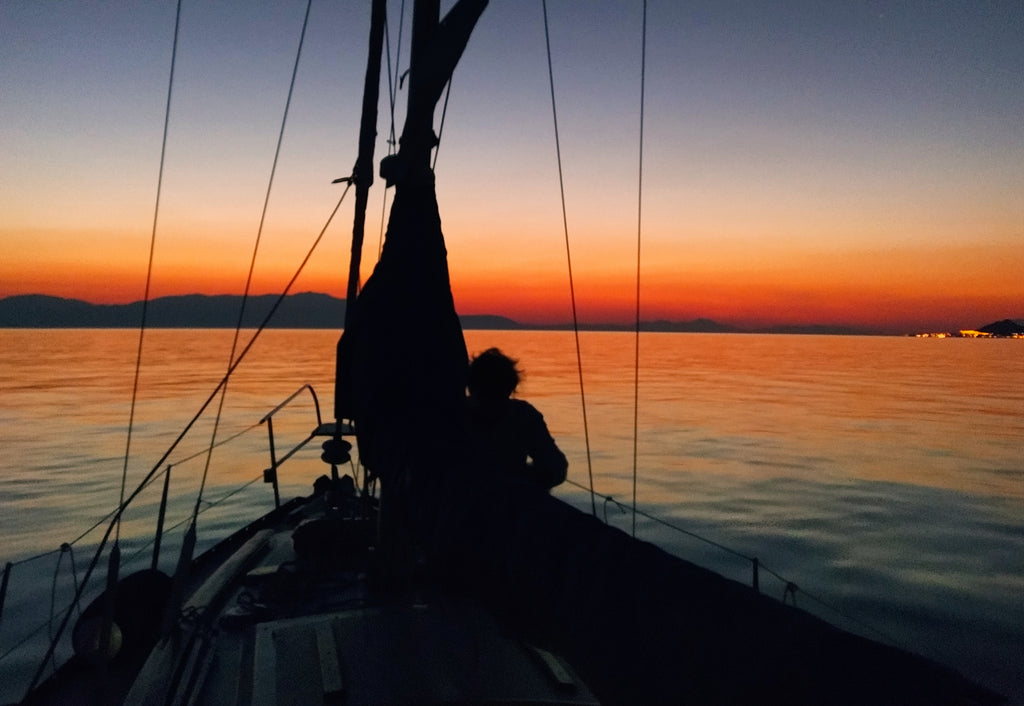 Posted on
February 28, 2022
achilleas petris
I want to start this post with one of my favorite Greek islands, Aigina…
Aigina is located just 1 hour away from Piraeus Port (the main port of Greece). It's an island that not many tourists know and only hear about it by locals once they visit Athens. Its location makes it probably the best island to visit for a day or two when you find yourself in the capital of Greece and want to get out of this bustling city.
Aigina has anything one can ask for combined with lots of character. Good food on a cute port where horse carriages are going by? You got it. Amazing Greek temple and ruins on the other side of the island that you can visit on a scooter? You got that too. Pistachio delicacies of every kind? You are in the right place.
Now... if you want sand beaches that expand for miles at a time this island might not be for you. Aigina is all about riding on a scooter by the beach, talking with the local fishermen, hearing the cicadas as you go by, and then stopping in the middle of your journey for a refreshing swim and a sip of ouzo. (Trust me you won't resist that)

Places to visit/things to do in Aigina …
Temple of Aphaia: built in the northern part of the island in a place covered with pine trees and with a view of the beautiful blue sea. It's in very good condition and you should definitely not miss it.
Perdika: A small village about 15 minutes from Aigina's main port with lots of cute taverns and the option to get a small boat to reach "Moni Island" where many peacocks and deers are some of its locals. Perdika is the place I spend most of my time when I visit Aigina (and I do very often) and I can easily picture myself living there at some point in my life.
Eat at a small tavern by the main port to observe everything that is going on and feel like in an 80s Mediterranean movie. A lot of old vehicles like Citroen 2CV/VW beetles/

vespas

are being driven around the island by the locals making it even more cinematic.
Ride around and get lost. That's probably the best thing you can do not only in Aigina but in the Greek Islands in general. Just rent something that has a motor that is fully operating (not an easy thing to do) and find yourself lost for you to ask for directions from a Greek Yiayia. Chances are you will eventually end up in a greek house shouting "Yamas" and having the lunch and time of your life.
The second Island you haven't heard about is Agistri…
Agistri just like Aigina is one of the Saronic Islands and is located very close to Athens making it the place where many Athenians find themselves on a hot July weekend when everything else is already booked. Since the ferry from Piraeus arrives in Aigina and afterward in Agistri many combine these two islands on their trip and visit both.
An island full of pine trees and crystal clear waters with some of the most picturesque little beaches you can ask for. 
Things to do while in Agistri:
Agistri is a really small island which makes it ideal for a 1-2 days visit. That being said it has a small but decent number of beaches. One of them is called Aponisos (this beach is private by the Cafe that operates there and a small entrance fee is required for entry, despite that, I think it is really worth the visit because of its natural beauty.) Another one that shouldn't be missed is called Paralia Mariza and Chalikiada Beach but be aware that during July-August they might be really crowded. (Chalikiada is the choice for many nudists as well)
Visit Megalochori and its cute taverns, since Agistri is really small it only has two small villages and it will take you approximately 10 minutes to ride from one to another, with some lovely views along the way. Megalochori is the one I mostly visit while being there because it's away from the main port making it more peaceful especially during the months of July and August.
Take it easy. This island is all about it, there is blissfully nothing to do, really, save sleep and swim and order kalamarakia, tzatziki and drink retsina until your tongue is raw, just take it slowly and simply enjoy the fact that you have found yourself in a small piece of Greek paradise.
The third Island you haven't heard about is Hydra…
Ok, there's a chance you might have heard of this one but still, I couldn't resist including it in the list. Hydra as Aigina and Agistri is one of the Saronic Islands and its proximity from Piraeus Port makes it relatively easy to visit. What makes this island so special you may ask? Well…no cars, no mopeds, no bikes. Donkeys haul luggage and essential supplies. The only other traffic you'll encounter? Sailing yachts and the water taxis that are to Hydra what the Vaporetto is to Venice.
Hydra is a place where the magic happens and the moment you arrive on Hydra, you instantly feel the change of pace…As soon as you step onto the cobblestones of the harbor of Hydra, you change century. Hydra was the place that Inspired Leonard Cohen (and numerous other artists like Seferis, Sahtouris, Gikas…) and we can clearly see why…
Small stone houses, small churches, little shops, narrow alleys with the aroma of Jasmine and Iodine all over, cute donkeys strolling around, cats enjoying the sun…This place transports you to a different era and it does in a way that no other greek island could ever resemble.
Since life in Hydra is mostly happening around its charming little port I don't think there's a point in making a list with places to visit/things to do since one would be "forced" to do them while being here in an effortless way. There are no street names on Hydra. You simply set off and see what lies around the next corner.
Hydra is really a place "like no other" where one can find an endless resource of inspiration and no words or photographs can really do justice. Please remember as you sail away from Hydra to put your phone down and commit to memory the poetic drama of this magnetic island with your own eyes.
"This purity, this wild and naked perfection of Hydra... Hydra is a rock which rises out of the sea like a huge loaf of petrified bread. It is the bread turned to stone which the artist receives as a reward for his labor when he first catches sight of the promised land."
-Henry Miller, Colossos of Maroussi
Explore more of our travel blogs here.
PS: If you have any questions regarding these islands send me an email at info@byachilleas.com and I will be glad to help. Cheers!